The Rev. Eric Turner, Rector
Fr. Eric Turner became rector of St. John's December 1, 2004. He lives in West Melbourne with his wife, Charlene, and they have two adult children.
Eric grew up the son of an Episcopal priest in Uniontown, a typical small town in southwestern Pennsylvania.  After he graduated from high school, Eric's family moved to Sewickley PA and he headed off for a year at West Virginia University, then to Allegheny College in Meadville PA where he graduated with a BS in Aquatic Environments in 1980.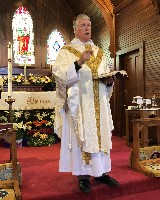 Moving back to Sewickley, Eric took a position with a consulting engineering firm.  It was during this time the "hound of heaven" grabbed him by the scuff of the neck and he paid attention.  Committing his life to Christ, and beginning the serious effort to follow Him in daily life, Eric began to pray over how this might effect his career path.  Growing up the son of an Episcopal priest, Eric always resisted the nice church ladies who expected him to "grow up and become a priest like your Dad," but finally he accepted that the Lord was calling him into the ordained ministry.
In the fall of 1982, he entered Trinity School for Ministry in Ambridge PA.  During that season, Eric met, fell in love with, and married Charlene (Sherbondy).  Following their wedding on December 15, 1984, Eric took a leave of absence from seminary to serve the Episcopal Church of St. Michael and St. George in St. Louis, Missouri as Youth Minister.
Returning to Trinity, Eric received a Master of Divinity in 1988 and was ordained by Bishop Alden Hathaway of Pittsburgh.  Eric and Charlene moved to Richmond, Virginia, where he served as Assistant Rector of St. Matthew's Episcopal Church.  During the Richmond years, their two children, Elizabeth and Woody were born.
In August of 1994, the Turners moved to Flemington, New Jersey, to begin work on a new church plant.  Having established Christ Church, Three Bridges, they moved in August 2002 to Shelton where Eric became Rector of St. Paul's. In the fall of 2004, Eric accepted the call to St. John's.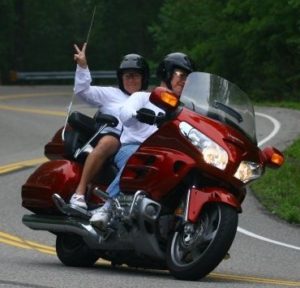 In addition to serving as Rector of St. John's, Eric is on the Board of Directors of Solar Light for Africa, a non-profit that provides solar light for church run schools, clinics and orphanages in rural East Africa.  His wife, Charlene, is Executive Director.  Charlene and Eric lead a team of American and Ugandan young adults on a mission trip installing solar for two to three weeks each summer.  Eric is a member of the Eau Gallie Rotary Club, serving as president of the club for the 2013-14 year.  In the Diocese, he has service as Dean of the Southeast Deanery, and on the Diocesan Board and Standing Committee.
For fun and relaxation, Eric enjoys time with his family, playing guitar, riding his motorcycle and training for triathlons.
You may reach him by email eric@stjohnsmlb.org or at the church office, 321-254-3365.